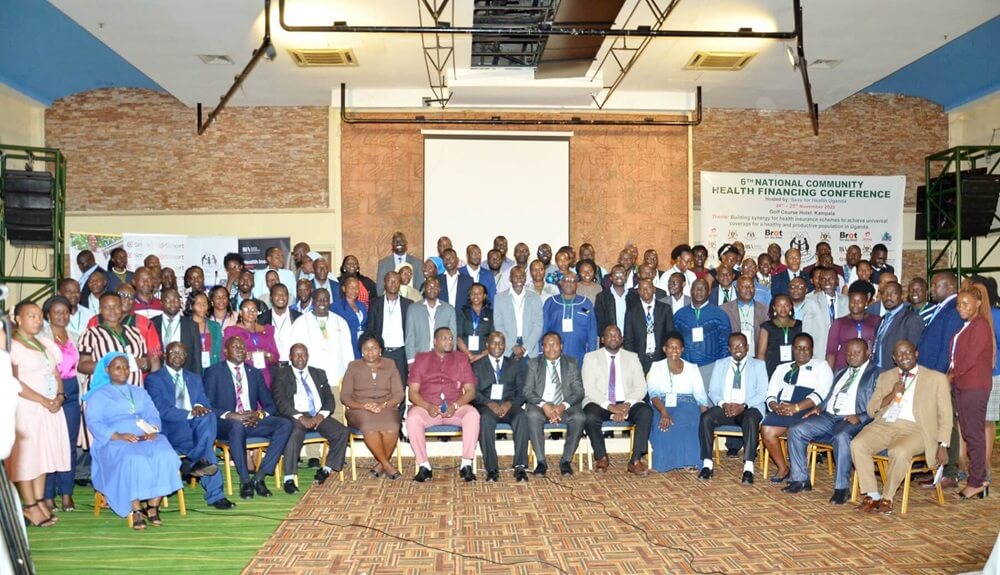 National Health Insurance Bill (NHIS) Bill coming up soon
The proposed National Health Insurance Scheme (NHIS) bill will soon be tabled again in Parliament to pave way for creation of a National Health Insurance Scheme.
In a speech read for her by Dr. Olaro Charles at the opening of the 6th National Community Health Financing Conference on 24th November, 2022 at Golf Course Hotel, Kampala, the Minister of Health, Hon. Jane Ruth Aceng, assured Ugandans that the Ministry had finalized preparations to present the NHIS bill before cabinet for approval after which it will be tabled in parliament.
The Minister assured Ugandans that the NHIS was still a priority but the delay to introduce it was due to efforts to achieve consensus among key stakeholders.
Members of Parliament led by the Deputy Chairperson of the Health Committee and MP for Ntwetwe County Hon. Joel Ssebikaali said MPs were ready to receive and debate the National Health Insurance Scheme (NHIS) bill to introduce health insurance for all in Uganda and protect citizens from the high cost of healthcare services. Hon. Joel Ssebikaali noted that the government had spent a lot of money on the process of developing the NHIS law but making the decision to start was taking too long.
Ssebikaali added that experiences from other countries which he visited including Ethiopia and Rwanda showed that national health insurance schemes continuously improve as they operate without having to wait for perfect conditions to start.
The Shadow Health Minister and Jinja West MP Hon. Timothy Batuwa said the opposition in Parliament was supportive of introducing the NHIS. He added that the obligations of government in the NHIS had to be clearly spelt out to ensure equitable distribution of services across the country and efficient utilization of funds in the NHIS pool.
Other MPs who attended the conference included Hon. Nakato Mary Annet, Hon. Namukuta Brenda and Hon. Auma Kenny who are District Woman MPs for Buyende, Kaliro and Kwania, and Hon. Kakembo Michael for Entebbe Municipality.
Dr. Marios Obwona, in a keynote address delivered on behalf of the Chairperson of National Planning Authority, said universal health insurance was one way to leave no one behind in the persuit for health coverage for all and reducing the health financing burden for households.
Dr. Obwona said health insurance is a strong bargaining tool for employers and has proved to increase staff productivity. He added that UHC requires equitable financing schemes anchored on tax contributions or compulsory insurance contributions payable by employees, public or private employers and the self-employed. He urged participants to renew efforts towards national and community health insurance schemes that support service delivery by placing them at the centre of the primary healthcare system.
The conference was closed by Mr. Prosper Muhumuza, commissioner for Disability and Elderly Affairs in the Ministry of Gender, Labour and Social Development.
The theme of the conference was Building synergy for health insurance schemes to achieve universal coverage for a healthy and productive population in Uganda.
The conference objective was to enhance support for fast-tracking the establishment of an inclusive National Health Insurance Scheme for Uganda.
The conference was organized by Save for Health Uganda with support from Bread for the World. Other partners were Ministry of Health, Ministry of Gender, Labour and Social Development, Uganda Insurers Association, Federation of Uganda Employers, Health Partners Uganda, Uganda Protestant Medical Bureau, Airtel Uganda and Smart Applications international.
In his remarks, the Executive Director of SHU Mr. Makaire Fredrick said although the previous parliament had incorporated community health insurance schemes in the NHIS bill, it remained unclear how CBHIs, together with private commercial insurance schemes, would operate alongside the NHIS and, or as part of the NHIS.
He added that the fact that only about 3.9% of the population has some form of health insurance cover and 15% of Ugandan households are estimated to be impoverished due to health expenditures was enough justification for fast-tracking the NHIS.